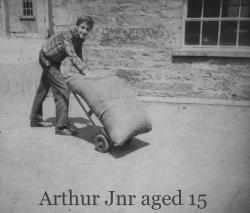 In 1984, Arthur Ennis passed away at the age of 72 years, leaving his businesses in the capable hands of his four sons, Victor, Desmond, Breccene and Arthur Jnr. 1988
Production levels increased from 100 tonnes per week to over 800 from the mid-1950s.This lead to the realisation that another expansion was needed. A greenfield site in Virginia, Co. Cavan, identified by Arthur Snr. years previously, was purchased for the location of a new state of the art 100,000 tonne per year pig, poultry and ruminant feed mill. He sadly never got to see the Virginia mill site purchased or running. This would replace the Mountmellick Mill which had closed several years previously, and also the Dublin mill, which was now at its full milling capacity.
Partial funding for this new venture was provided by IDA Ireland and FEOGA.